Are you looking for mobile app developers to help you create a new program for your company? If so, you would be wise to consider the following factors before making a hiring decision: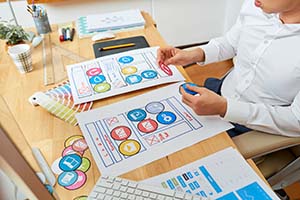 Their Experience: If you want to be confident your new program will be as well-designed and reliable as possible, you should try to work with people who have many years of experience in app development. If you hire inexperienced developers, they are likely to make errors that will result in an inferior final product.
Their Communication Skills: You'll most likely spend weeks or even months exchanging calls and emails with your chosen mobile app developers as they work to build your program. If their communication skills are poor, this process will be frustrating. Select a team that knows how to communicate if you want to avoid this nightmare scenario.
Their Reputation in the Industry: Do the mobile app developers you wish to hire have a solid reputation within their industry? If so, they might be the company for you! If not, you might want to explore other options.
Microtronix ESolutions - Your Trusted Mobile App Developers
Finding mobile app developers with years of experience, outstanding communication skills, and an excellent reputation in the industry doesn't have to be difficult. In fact, your search is already over.
Microtronix ESolutions has been creating powerful and reliable mobile apps for companies such as yours for years. We have the experience and technological know-how to handle any job, and we are ready to add your name to our long list of satisfied customers!
To learn more about our services, all you need to do is pick up your phone and give us a call at (419) 458-2880 or fill out our short online contact form. We look forward to hearing from you!